You can Watch Live on SquashTV, follow on Live Scoring and our social feeds, and we'll have updates and reaction here with a roundup at the end of the day.
Optasia Championship 2022 : SEMI-FINALS, Thu 10th Mar
[1] Ali Farag (Egy) 3-0 Nicolas Mueller (Sui)   17-15, 11-5, 11-4 (41m)
[3] Diego Elias (Per) 3-0  [2] Mohamed ElShorbagy (Egy)    15-13, 11-1, 11-7 (45m)
It doesn't take a genius to see that the first game was crucial. A long, exhausting, explosive game, 22m, with the Swiss Rocket living up to his nickname zooming to 5/0 within seconds!
Followed much longer rallies, with Ali using the height of the court a lot – very cold conditions, so using lobs really – and forcing a lot of steps into the Swiss.
Both dominated at times, scoring runs of points, but it's Ali that gets first blood, 10/8. But full of confidence and moving very well, Nici just went on defying Mr Fantastic, setting himself 3 game balls before the Egyptian finally closed the game on his third game ball, 17/15.
The last two games saw some lovely rallies but the sting was out of the Swiss Racquet, and Farag was able to take a nice 3/0, 11/5, 11/4, in 6 and 7m.
"He threw more than just the kitchen sink at me, he was throwing everything at me. You can never match Nicci at such open squash, I tried to contain him in the first, I wasn't aggressive enough in the back corners and he was finding his targets pretty well and was playing better than me but I thought to put some work into his legs even if you lose this one it's an investment, and it would pay off in the second and third games and winning it as well made the physical difference and also the mental difference because I was 1-0 up and I capitalised on it in the second and contained him in the third and I'm just very happy to win.
"Nicci is a very experienced campaigner, he's beaten Shabana in his peak and a lot of good players, he's pushed every player throughout his career, he's been unlucky with injuries but when he's in good shape he's very dangerous as you've seen today and all week. I'm happy for him to be back injury-free but not for myself as it gets tougher but it's great and I'm looking forward to more matches together in the future.
"I do a lot of gym work with my fitness team back in Egypt and help from Derek Ryan in Ireland, he's been my S&C consultant and my everything consultant in a lot of things so he's been a big help. Obviously, right before tournaments, we taper down but in a regular week, it's two or three times in the gym and two-three times of other fitness work, whether it's on the bike, treadmill, court sprints or ghosting.
"As they say, squash has all different elements you need to be good at not only in endurance but speed, strength, everything, which is great for the spectators but not for our bodies, my joints are looking pretty distorted at only 29 but hopefully with the help of my team I can keep playing for many more years."
Well, if we thought the first game was paramount in the first semi, what to say about this 26m opener, that took so much out of Mohamed's game that the Egyptian stayed only 4m on court in the second game, scoring only one point.
It felt like that final in the CIBPSAFinals against Mostafa Asal, with Mohamed signalling to his mum and dad that he was completely dead. And if Mohamed dug in deep in the third game, trying to force a few errors from Diego's racquet, and looking like refreshed, 4/4, 5/5, 7/7, the South American just strung the last four points in seconds, and a huge relief/pride shout from Diego sealed the match, 11/7 in 10m.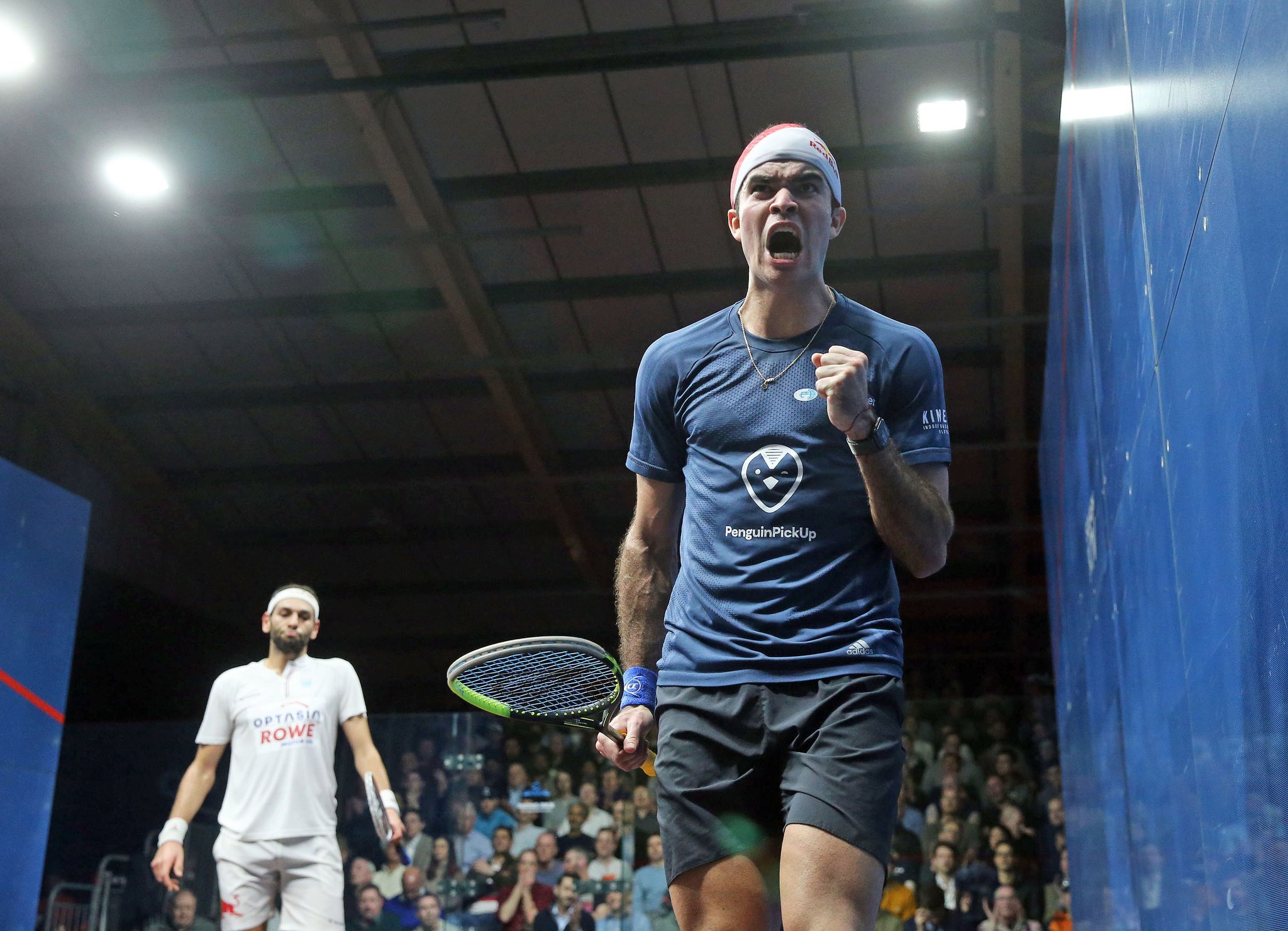 "I'm very happy with my performance today.
"Yesterday helped me a lot for today, I was a bit nervous, I was coming from a bad loss for me 2 weeks ago, I was just trying to get back to my game and I'm very happy with this and I'm ready for tomorrow.
"We always have tough matches, even when I started we played maybe five 3-2s, I always expect a tough match, I'm just happy he's coming back stronger, he was struggling for a bit and now he's on his way back and it's just great having him around.
"Ali and I we've played so many times, I don't have the best record against him, but I'm starting to play better and better and we haven't played in a while so I'm ready for it."